HAZARDS OF DIY GARAGE DOOR SPRING REPLACEMENT
Garage door spring balances the weight of your door and does the majority of the really difficult work of the garage door. Did you realize that these springs just stay fit as a fiddle for a predetermined number of cycles before they're in danger of failing? But when it comes to replacing an overhead garage door spring, it should be done with proper expertise and should be done only by a professional.
Springs are pre-rated for a particular number of cycles. One cycle is your overhead garage door opening and closing. The normal spring will last 10,000 cycles, or somewhere in the range of 6 and 10 years. As homes that are built nowadays are constructed with attached garages, numerous property holders are using the garage to get entry into their homes and increase the number of cycles their garage door encounters. Surpassing the cycle rating of your garage door springs can cause small cracks in the spring and reduction its life expectancy.
In the event that your garage door springs break or cause the overhead garage door to break down, you might be tempted to repair or replace them yourself. These springs are wound and stretched firmly and messing with them represents a threat to yourself and your property.
Remember these realities about garage door spring replacement before endeavoring to DIY.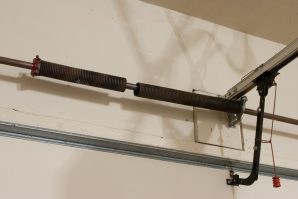 BROKEN OR BREAKING DOWN SPRING CAN CAUSE GENUINE INJURY OR EVEN DEATH
As a homeowner, you may not know how to spot threat when working with overhead door repair of a garage. Numerous mishaps, including cuts, broken wrists or fingers and even death have happened when appropriate precautions or right devices weren't used for the activity.
If your garage door uses a two-spring framework and one of the springs breaks, the other spring will at present be under significant strain. A damaged spring can likewise make your garage door slam shut suddenly, hurting any individuals or property in its way.
THERE IS NEVER A « SIMPLE FIX » FOR BROKEN OR MALFUNCTIONING SPRING
Except if you're an expert, changing or adjusting garage door springs is never as basic as it appears. Overhead door repair professionals are trained in various spring related applications in garage door frameworks. They are additionally prepared to use the correct set of tools for overhead door repair along with the proper safety of the workers as well as the property of the owner.
NORMAL UPKEEP IS CRITICAL TO KEEP YOUR GARAGE DOOR SPRING WORKING APPROPRIATELY
Normal care will spare you the issue of managing a broker down garage door. For colder atmospheres, have your door investigated and maintained two times per year for ideal execution. Get in touch with one of the experts to understand better about the do's and don'ts of the overhead door and when garage door spring replacement is required.
Avoid any damage to yourself or the equipment of the garage door by calling Door Doctor at (514) 631-3130 to take care of any repair work that needs to be done.