Get ready for WINTER

26 POINTS MAINTENANCE INSPECTION
Ask for your inspection by a Door Doctor certified technician
Is your current garage door weather-stripping still efficient?
Did you know if you do not have the right weather-stripping, wind and cold can infiltrate through your garage door causing loss of energy and money. A new weather-stripping can make the difference.
* 50 km radius from any of our 4 locations.
26-Points Winter preventive maintenance inspection.
Operator
1) Test Control Panel / Remotes / Keyless Entry
2) Check Boom / Trolley
3) Test Safety Eyes
4) Check Motor / Gears
5) Check Bell Wire
6) Test Safety Reverse / Limit Switches
7) Check Force Setting
Garage Door
8) Check Door Balance
9) Check Springs
10) Lube Rollers
11) Check Cables
12) Check Safety Cables
13) Check Drums
14) Check Center Bearing
15) Check End Bearing Plates
16) Check Pulleys
17) Check Forks
18) Check Shaft
19) Check Hinges
20) Check Brackets
21) Lube Tracks
22) Check Hinge Arms
23) Check Strut / Truss Rod
24) Check Spring Anchor
25) Check Bottom Weather Seal
26) Check Panel Condition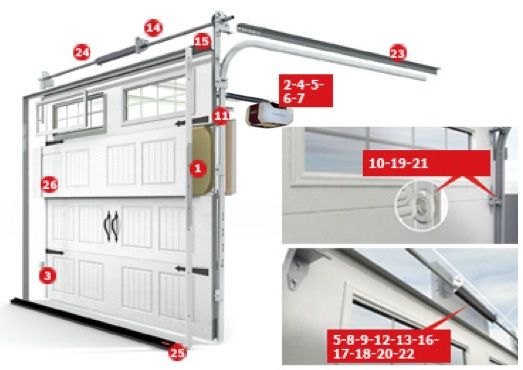 DESIGN
Center

Electric
GARAGE DOOR
Openers
Book an
Appointment
Extented
WARRANTY