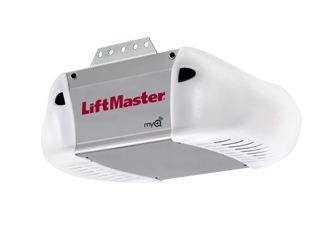 LiftMaster 8365 electric garage door opener
With its rugged reliability and exceptional all-around performance, the 8365 1/2 HP AC Chain Drive Garage Door Opener offered by Door Doctor is the perfect choice if you want enhanced style, reliability, and the performance attributes of our best-selling drive system ever.
All LiftMaster Openers and Operators should be professionally installed.
Features
Connectivity
Confidently know what's going on at home with MyQ® Technology. It lets you monitor and control your Garage Door Opener and home lighting from anywhere (when paired with the Internet Gateway).
Receive email or text alerts so you always know the status of your garage door and home lighting.
Download the MyQ® mobile app for free. No annual activation fee required.
Performance
Rely on durable and powerful performance with our P3 Motors™, which are specifically built for use in Garage Door Openers.
Appreciate years of reliable, maintenance-free service from our industrial-strength Chain Drive System.
Consume up to 75% less power in standby mode.
Have peace of mind with our Lifetime motor and one-year parts warranties.
Safety and security
Safeguard your household with Security+ 2.0™- with every click, a new code is sent to the Garage Door Opener, so the door opens only for you.
Stay out of harms way with audio and visual warnings when the garage door is about to close.
Prevent the door from closing if anything interrupts the safety beam that crosses the garage door opening.
Lock down your garage door and against a forced opening with PosiLock®.
Included accessories
(1) 3-Button Remote Controls (893LM)
Allows you to control up to three
garage door openers or gate
operators or MyQ Accessories.
Multi-Function Control Panel (882LM)
Allows you to program remote
controls, keypads and MyQ Light
Accessories from the control panel.
Includes lockout remote controls
for added security.
Optional accessories
Internet Gateway(828LM)
Connect your MyQ-Enabled
Garage Door Opener and
Accessories to the Internet with
this device and the free MyQ app.
3-Button Mini Remote Control (890MAX)
Allows you to operate up to
three garage door openers, gate
operators or MyQ Accessories.
Fits on keychain, in a pocket or
purse.
Ceiling Mount (195LM)
Give your garage the style it's been
missing by hiding the wires and
Wireless Keyless Entry (877LM)
Open your garage door without
using a remote control or a key
and close it with just the push of a
button. It works with a code that
you program. You can also program
a temporary entry code for friends
and service people.
cords with this sleek ceiling mount.
Works in most standard garages.
Downloads